While all our puppies leave with a microchip it is a good idea to also have outside identification
as well. Here are two great sites that I frequent often.
​
They have great plastic tags and the more common stainless steel, brass and aluminum tags.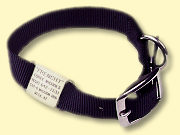 They have a variety of enamel tags in unique designs.
Proud to be an owner recommended doodle breeder of Goldendoodles, Bernedoodles and Sheepadoodles.